Full Specification
Movement

Features

Chronograph, Date, GMT

Case

Case Material

Steel & Rose Gold

Glass Material

Sapphire Crystal

Other

Country of Origin

Switzerland
About the Graham Chronofighter Collection
History
Relics of English watches with impeccable Swiss designs, Graham watches were pioneered by London clockmaker George Graham, often touted as the Father of Modern watch-making. Born to innovate, he gave the world its first stopwatch, the mercury pendulum system and the unique chronograph. True to form, this collection lays claim to expert engineering. The Chronofighter series were first manufactured in the year 1695 and since then have expanded to become the most recognized and loved collection among Graham watches.
Design
Created with an almost unscrupulous extravagance, the watch-makers have left no stone unturned in utilizing the best materials in the making of this collection. Cases are crafted using only regal material to give you value for money. The gold is always a solid 18 carats, the diamonds are a class above that which is used in most watches and the steel is the best grade available. Ceramic or carbon-fibre is also used in its finest make.
Popular Models
Manufactured in la-Chaux-de-Fonds, the watch-making capital of Switzerland, the Chronofighter collection expresses its uniqueness with charm. The Chronofighter Oversize series displays the brilliantly designed espresso-machine like lever placed shrewdly on the left side of this time-piece. The location of this well-polished 10 mm lever is such that it impairs no movement of the wrist and fits snugly on your left hand. The date is characteristically set between 8 and 9 o' clock for this line. The Chronofighter R.A.C Trigger series, another strongly styled statement in this watch collection, is equipped with a chronograph containing a 60 seconds and 30 minutes counter at 3 and 9 o'clock respectively. With oversize 12 and 6 hour numerals and the date displayed smartly at 7 o' clock, the watches bag awards for being all-rounders. They have a significantly personalized concave bezel crafted from a whole-domed sapphire crystal which is no mean engineering feat.
Associations
This collection is made to please sportsmen such as leading motor-sports champion, Alexandre Imperatori, who has been devoted to the Chronofighter series and the stand it takes on dedication and team spirit. The Chronofighter 1695 series also finds a fan in Kunal Nayyar, star of award-winning sitcom, The Big Bang Theory. The immaculately masculine and rugged look of this collection perfectly suits talent such as famed Rock musician, Glen Hughes who wears a Chronofighter oversize GMT, to name just very few.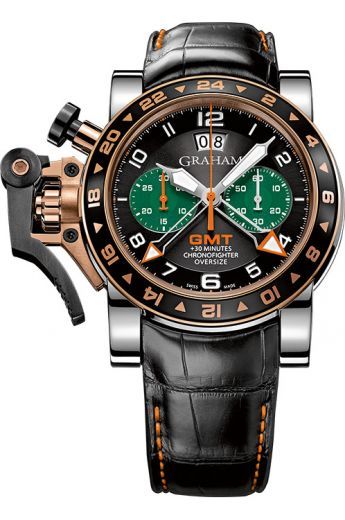 RATING & REIVEWS
89%
People recommend this watch
Based on 7 Reviews.
Kenil Patel (5/5)

Posted on 22/12/2018

Nishit Nath (4/5)

Posted on 07/03/2015

I saw this watch yesterday and lemme tell you, it was LOVE AT FIRST SIGHT. These watches are all about FIRST impression, if you don't like it for the first time, you'll never like it. The only bad thing in the watch is its strap, if they had given it a rubber strap, 5/5!!

Akhtar Hussain Shaikh (5/5)

Posted on 15/02/2015

Good watches , I see them everytime

najma ahmed (2/5)

Posted on 11/02/2015

It is an awesome watch and I love that this is available online. It is a wonderful gift for anyone who is very close to your heart and though it is very expensive I am very attracted to the looks of the watch. The leather, watch hands are the most beautiful with the color of watch. I am glad that this item is online.

Ullu Prabhat (5/5)

Posted on 30/07/2014

Good watches , I see them everytime, But I know some day in my life I can afford.

yogesh chander (5/5)

Posted on 06/06/2014

Graham oversized steel and gold edition is highly recommended watch for those who love the unique design and has the big wrist too. This oversized design watch is equipped with the finest technology and the a stylish design which makes it a compelling device. The Incabloc shock absorber technology from graham's finest watch making, 28 jewels and automatic bi-compax chronograph defines it's technology. At the same time Steel with black PVD fast-action start/stop trigger and reset pusher, crafted with 18 K gold 18K crown, mounted on left side of 47 mm steel case gives it an unbeatable looks. Icing on the cake is it's 18 K Red gold sapphire bezel and Black and green with GMT scale. The watch is definitely oversized, but not for it's design for the features. It stands out of crowd at anyplace.

Pratyay Bhattacharya (5/5)

Posted on 23/05/2014

Graham watches are all about making an extremely bold style statement that has nothing formal about it. That boldness and impunity is well reflected in this watch's design.With a black dial,black leather strap stitched with orange and a very prominent crown located curiously on the left side of the dial ,this time piece never fails to attract attention of on-lookers.The watch also comes loaded with features like chronograph, date and GMT for which it has two additional hands. Last but not the least,the case material is gold and it has an automatic movement which sums up to the price tag.