Full Specification
Model No

T067.417.11.051.00

Movement

Features

Chronograph, Date

Case

Glass Material

Sapphire Crystal

Other

Country of Origin

Switzerland
About the Tissot T-Sport Collection
History
After heralding itself through the clutches of technical mastery, Tissot decided to reel in the world of sports. Officially timing various events such as The International Fencing Federation, the International Basketball Federation, the FIM Superbike Championship, NASCAR, MotoGP, the Ice Hockey World Championship, and the International Cycling Union, Tissot decided to launch the Tissot T-Sport collection in 1999.
Features
Fitting the bill of a perfect sports watch, the Tissot Chrono XL features three sub-dials. Adding to the bill, the Chrono XL is also associated with the NBA and provides special edition timepieces for the NBA teams such as LA Lakers, Chicago Bulls, San Antonio Spurs etc. Adding a tachymeter to the same setup of chronographs, the PRC 200 is also offered in a special edition made in collaboration with International Ice Hockey Federation (IIHF). Featuring a tachymeter on the bezel, the Tissot Supersport Chrono is a vibrant addition to the collection. Inspired by the wheel of a motorcycle, the Tissot T-Race is a masculine sports watch with a robust construction. Featuring a brilliant chronograph and a tachymeter, the T-Race is futuristic. Tissot decided to team up with Moto GP and construct the Tissot T-Race Moto GP series which also features special editions for various champions inside the Moto GP. In another instance of brilliant collaboration, Tissot collaborated with Tour De France and crafted the T-Race Cycling. These timepieces feature limited edition timepieces named after the cyclists participating in the Tour De France. Made in collaboration with Renault's performance division, Alpine, the Tissot Alpine on Board set of timepieces features mouth-watering timepieces. Similarly, to celebrate the success of the world's most performance-efficient engine, the Tissot V8 is a robust set of timepieces.
The Divers
Tissot decided to incorporate a set of robust diving watches. Inside the Seastar 1000 series, the robust timepieces deliver a water-resistant capacity of 1,000 ft. Whereas, the Seastar 2000 offers a whopping water-resistant capacity of 2000 ft. Both the Seastars are equipped with a uni-directional rotating bezel. The Seastar 1000 also features a limited edition timepiece equipped with a helium release valve.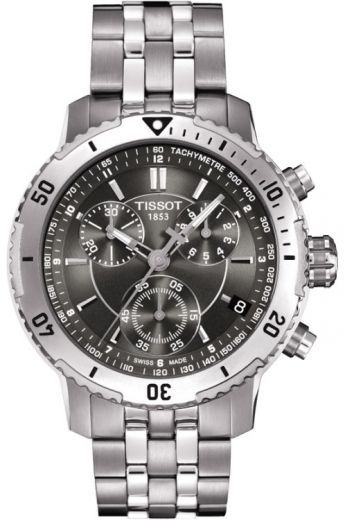 RATING & REIVEWS
100%
People recommend this watch
Based on 5 Reviews.
rashi bhavsar (5/5)

Posted on 23/08/2015

Tissot T sport is really a great watch its classic and elegant casual and formal this watch is great for youngsters. I bought this watch as a surprise gift for my boyfriend and i am soooo happpy he loved this watch.

Muralimohan Dasu (5/5)

Posted on 05/03/2015

Wow!!.. is the first word when i saw the watch.
I have no words to define it. The beauty of a Chronograph that too in BRAND LIKE, TISSOT is unbelievable and the brand admiration makes you faint.
Its an amazing feel when you wear it. and recognition yes its Royal all around the World.
Mesmerize the world with the new attitude.

Rittik Roy (5/5)

Posted on 21/01/2015

Reliable performance and good quality designs are two things that always stick together in Tissot watches. And if you are searching for both in your next watch, Tissor PRS 200 should be your choice. My wife gifted me this watch on our engagement and I am totally in love with it. Not every watch on the market can satisfy all tastes from customers but there are a few that can please almost everyone with the features they bring. The chronograph function adds to the magnificent work in the watch. Not only does this come with a sapphire glass which is scratch resistant, it also provides an option for the date as well. I am using this watch since 1.5 years and have absolutely no problems. The steel wrist band fits perfectly and causes no irritation to the hand. I give 5 stars for the design, looks and the quality of the watch. I would recommend this watch to anyone between 20-40 yrs of age who wants to have a sporty watch.

Rahul Osiris (5/5)

Posted on 19/03/2014

Tissot T-Sport's elegant look enhances our personality. A man's wrist seems like a woman if she doesn't not decorate herself with embellish ornaments in her day to day life .Consequently men wear Tissot and their personality dignifies into a superb outlook.This is not a watch but a lifetime unique piece around our wrist . It's style, beautiful shape, creamy steel chain mesmerizes our wrist. Tissot is serving man's dynamic appearance since 1853. As a result it's single glimpse captivates our heart , mind and it's majestic testimony doesn't allow us to leave mammoth bond of Tissot throughout lifetime. Not even a single man on this earth repudiates its magnificent graceful exquisiteness. To wear Tissot is not a result of one day but it has taken years of research to accept Tissot in a form of indispensable necessity with closed eyelids. Finally, it comes at our hands and becomes part of our life .
Tissot produces high tech mechanical devices which fulfill all sound needs. Tissot provides every bit of features which are being required by a stylish man.
In fact, Tissot also explores some features which are beyond the imagination of a highly intellectual man. Tissot is not a product of status and money but Tissot signifies intellectual thinking and its glorious origin nurtured by supersonic minds. It would be apt to use nectar as a metaphor for Tissot . Lifelong living product, Tissot's seconds will run from the childhood days of Great grandfather to Great grandson.

umaamar belagur (5/5)

Posted on 19/01/2014

Watches are selective. The rates are affordable and competitive. Totally good watches!